Children are important to us...
Nevermind if summer or winter, your children will be entertained at the Hornberg with playing, sports and fun!
Being a family ourselves, you and your children are most welcome at our place and we know exactly, how precious the spare common time is! That's why it is so important to us, your children feeling at relaxed and more than accepted at our place.
Consideration & Safety...
Please note: out of consideration for all our guests, children are NOT allowed to run in public areas of the hotel. This is especially true in and around the restaurant to prevent accidents with dishes or hot food and drinks. In our fine dining restaurant we also ask you, together with your children, to respect an appropriate volume for a pleasant atmosphere for the other guests.
In winter, obviously, skiing is the big thing for your children! The slopes pass literally in front of the Romantik Hotel Hornberg and also the kids club with a children's T-bar is located just a few steps away of the terrace.
Sledging (...we do provide many of those!) is well possible all over and indicated and prepared slopes make it even easier. For all the other winter lovers, there's the Gstaad ice field waiting to provide fun and laughter...
In summer time, children appreciate more than all the hotel garden with more than 6'000 square meters of nature waiting to be discovered! The playground is located in the upper part of the park, even though the highlight for all the children are the picnics, where they join one of the hotel owners cooking on the open fire in free nature and waiting for the guests to arrive with their guided hike!
Not only us! Check out right here, what the Gstaad region has to offer especially for children...
All for the kids from A to Z...
Here all you need to know for a harmonious holiday for your and your family.
Baby chairs
Are available any time, please ask the restaurant personnel for one.
Baby needs
We do have baby bath tubs as well as a changing mat and water cooker. Call us and we send it to your room.
Babyphone
The hotel has its own baby intercoms which you are welcome to use free-of-charge. During meals, you are welcome to leave them with our reception staff who will let you know as soon as they hear a sound.
We recommend the use of a smartphone, this works perfectly on our WLAN connection, the best solution to know what is going on in your childrens'dreams.
Babysitting
If you want to engage a babysitter, please book well in advance with the reception in order to secure this service. Babysitting costs CHF 30.00 – CHF 40.00 per hour.
Changing table
Next to the indoor pool entrance there is a changing room with a proper nappy changing table.
Childrens beds & baby cots
We provide such at no extra charge for the duration of your stay.
Children-Menus
Our kitchen team is geared to preparing fresh baby food, pureed veggies or fruits, we call these dishes 'Babylino". Don't hesitate to ask our service team what is available and what your kiddies taste buds desire.No efforts will be spared to fulfil your requests. There is also a kids menu for those with teeth and again it may be adapted.
Dinner is served from 6 pm to 10 pm, children may have their dinner earlier. Please inform the staff at the reception what time you'd like the kids to be served.
Children sleeping cost-free in an additional bed in your double room are invited by the hotel for breakfast.
For half board there is an extra charge per day, according to age, as follows:
No charge for children up to 1 years of age
Children 2-16 years old = CHF 20
Games
A variety of games are available for any age at the bar. Please consult with our reception.
Prams
We have a limited number of prams for your use at no charge. Please let us know your needs.
Sauna
Children under 16 years of age are not allowed in the saunas.
Sledges & sleighs
For unlimited snow-pleasure, we provide sledges and sleighs at no charge for our hotelguests and children. Kindly contact the reception for borrowing them.
Swimming
The indoor pool (32°C) is available for you and your children from 7 am to 8 pm. For safety reasons children must be accompanied by and adult until they are over 12 years of age.
The outdoor pond (max. 20° C) should only be used with adult supervision. As this is an organic pond we request all users to shower before using this as sun creams and lotions disturb the organic cleansing of the water.
Playground
The playground is behind the hotel near the organic outdoor pond.
Playroom
The playroom is on the first floor up the steps from the reception. There are plenty of toys for any age. Kindly leave the playroom as neat and tidy as you found it. Children up to 3 years of age may only use the playroom under adult supervision.
Table tennis
The table tennis is near the playground behind the organic outdoor pond. The reception will happily issue bats and ping-pong balls to you on request.
---
Already discovered? The Hornberg 360° Panorama!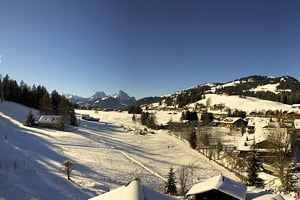 Breathtaking views...
...almost as if you were with us. Ideal for a short break with a Hornberg feeling!
Just click here.