So easy to reach us...
Our correct adress
Sometimes it looks like Google has some difficulties to show our correct adress in Google Maps.
Therefore please note:
Romantik Hotel Hornberg
Bahnhofstrasse 36
3777 Saanenmöser (near Gstaad)
Just have a look at the map below and find the best way to travel to Romantik Hotel Hornberg. You can rezise the map in any way - just enjoy it!
Journey by car...
Option 1
Highway A1 direction Bern, A6 direction Thun, exit to Zweisimmen, follow the main road to Zweisimmen, Saanenmöser.
Option 2
Highway A12 to Bulle, exit Château-d'Oex, follow the main road to Château-d'Oex, Saanen, Saanenmöser./div>
Journey by train...
The Romantik Hotel Hornberg is at 2 minutes walking distance from the small train station Saanenmöser.
There are good train connections with changes in Spiez and Zweisimmen or Montreux.
Journey by plane...
From Bern (Belp) to Saanenmöser,
approx. 1 hour by car.
From Zurich (Kloten) or Geneva (Cointrin) to Saanenmöser, approx. 2.5 hours by car.
From Basel (Mulhouse) to Saanenmöser, approx. 2 hours by car.
In a moment you arrive!
If you see this, you're done! Welcome at Romantik Hotel Hornberg!
For your guidance, we propose to consult our ground plan.
We wish you a pleasant journey!
---
Already discovered? The Hornberg 360° Panorama!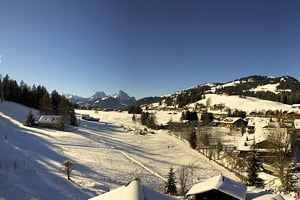 Breathtaking views...
...almost as if you were with us. Ideal for a short break with a Hornberg feeling!
Just click here.