Precious landscape...
The Saanenland is known for its authentic style of chalets and houses, its unspoilt nature and its independence as a region. The Romantik Hotel Hornberg is located within 10 minutes of Gstaad, embedded in nature and quietness. You can enjoy the silence yet get into the tumble of action with a "skip and a hop".
Summer activities...
In addition to guided walks incorporating a delicious picnic organized by your hosts of the Romantik Hotel Hornberg, there is obove all the captivating beauty of nature itself.
In summer there are numerous cable cars to choose from, offering mountain lovers a great infrastructure: the summer hiking map.
As a hotel guest, there are two tennis courts at your disposal free of charge and we are also the nearest hotel to the 18-hole golf course.
The summer offer of the Saanenland, with its medium altitude and the large amount of cultural and sportive events, is almost unique… here you find these top events in Gstaad-Saanenland.
Our hint for your stay in our hotel: the "Gstaad Card"!
With the "GSTAAD Card" you can experience the Saanenland, Zweisimmen and the Pays-d'Enhaut at its best! We recommend you to buy the "easyaccess card" at our reception. Included in the price of only CHF 19.- per day (children CHF 9.-) are mountain railways and various other public transport services. You also profit from other facilities like for instance free access to the lido and to the museum.
A small investment that pays off... Click here to get more informations!
---
Already discovered? The Hornberg 360° Panorama!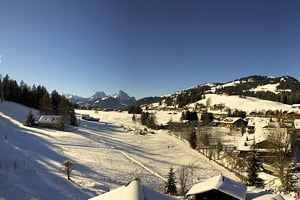 Breathtaking views...
...almost as if you were with us. Ideal for a short break with a Hornberg feeling!
Just click here.