A real treat...
In the following you will find further suggestions to enrich your vacation at Romantik Hotel Hornberg with unforgettable memories, delightful moments and exceptional experiences. No matter if you prefer festive or authentic country-style.
The relaxing Hornberg terrace
If the weather is fine with pleasant outside temperature, we propose to set the table for you on our terrace, where about 100 seats are available. Regardless of season, spring, summer, autumn or winter, our terrace is a fantastic place to meet, relax, enjoy, chill out or have a convivial conversation. The breathtaking panorama is one more of those special Hornberg Hotel treats. Ideal for all those with "savoir-vivre".
One more gem for true authenticity
At the old little chalet (we call "Hüttli") build in 1726 we invite those that love a tasty cheese-fondue or a Chinese hot-pot à la Romantik Hotel Hornberg or a meal with unlimited Raclette. Hotel guests can avail this "private dining place" at no extra charge, but advanced reservation is highly recommended. No other place than to experience true, authentic and romantic Swiss "Gemütlichkeit".
Our answer to a special celebration
Be it a birthday celebration, a Gala dinner, family reunion or any other celebration, rest assured that we will meet and exceed your wishes and expectations. Our hotel has the facilities for spending memorable moments with family, friends and anyone that is important to you.
---
Already discovered? The Hornberg 360° Panorama!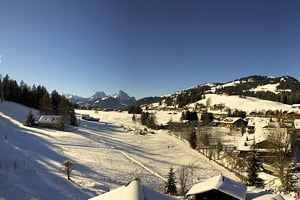 Breathtaking views...
...almost as if you were with us. Ideal for a short break with a Hornberg feeling!
Just click here.