Romantik Hotel Hornberg at a glance
Before you book your favourite room at the Romantik Hotel Hornberg we invite you on a pictorial tour of our website and we'd like to give you information about salient points prior to making your booking.
To facilitate your guidance at Romantik Hotel Hornberg, just start your "journey" with our ground plan.
Let's get to the point
Location, location, location…
The Romantik Hotel Hornberg is a secluded individual hotel at 1270 m above sealevel in Saanenmöser, yet still only within 5 minutes walking distance from the railway station.
The size of our property
The Romantik Hotel Hornberg is a four-star hotel and offers over 40 lovely and comfortable rooms (21 double rooms, 8 singles, 3 junior suites, 5 family rooms and 3 family suites) spread over 4 interconnecting chalets. Swiss cozyness and charm at its best.
A lovely garden with about 6000 m2 is an open space for joy and relaxation.
The restaurant
Our hotel has a restaurant with 130 seats. Its layout offers four different ambiances. On offer is an à la carte menu that changes on a regular basis; a real treat for your tastebuds. If you are a hotel guest as part of your half board we serve a menu of four courses and daily an extensive salad buffet with crisp local produce and artisanal cheeses from the trolley.
In sunny weather lunch may be taken on the terrace in winter and main meals in good weather in summer. The view is spectacular from the terrace which offers another 100 seats.
What makes the Romantik Hotel Hornberg so special?
The Romantik Hotel Hornberg is a hotel in which the needs of all generations are considered and addressed. Our guests feel the quiet, get energized of experience a romantic evening in our Huettli, a 1720 farmers chalet used as a private dining room. Nothing could be more authentic! The hotel graces as a flower paradise all year round. A perfect marriage of modern amenities with traditional values assure you of an exceptional stay.
During the summer guests can avail themselves to the tri-weekly hikes. Scrumptious pic-nic will await you along a river bed or a grove. The garden is spacious and stocked with trees planted by the owner. A perfect place to chill out, relax and nap in the fresh air.
The wellness area being accessible from the garden. An indoor pool as well as an organically managed outdoor pool are part of two types of saunas and you can do our own Kneipp cure in the fountain.
The banqueting facilities are simply exquisite as each function room is a small chalet with daylight well equipped with state-of-the art audio visual equipment, ideal for up to 40 participants.
Management
Since 2003 Brigitte and Christian Hoefliger-von Siebenthal are at the helm of the Romantik Hotel Hornberg. They run the hotel with love and joy and are the third generation proprietor-managers. Their ultimate aim is to provide guest satisfaction; this can be felt as you step into the hotel. You are most welcome!
The team
More than 50 associates, all striving for the same: guest satisfaction and comfort. Please meet them in person.
Summer activities
For spending an active holiday the Romantik Hotel Hornberg is the ideal place. The closest hotel to the Gstaad-Saanenland 18 holes golf club is at 15 minutes walking distance, the hotel is at the foot of an extensive mountain bike trails, hikes are unlimited in an unforgettable Alpine panorama. You'll be offered great tips on spending your furlough to your hearts desire.
Find all those wonderful details here.
Winter activities
Winter means snow. The Romantik Hotel Hornberg is at the foot of a ski-eldorado that has more snow than many other areas close by. 20 mountain rides, 200 Kms of well-groomed slopes, the sunniest cross-country trail starting right below the hotel and well-prepared hiking trails are awaiting you. The Kids-Club is some 100 feet away from the hotel and here starts the snowsport career of your youngsters.
More details for the perfect winter experience.
Opening times
The Romantik Hotel Hornberg is open from mid-May to end of October and from end of November to mid-April.
The hotel reception is open daily from 7 am to 11 pm (reachable by WhatsApp Chat from 8 am to 10 pm).
The restaurant is open daily from 7 am to 11 pm.
---
Already discovered? The Hornberg 360° Panorama!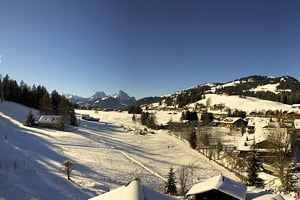 Breathtaking views...
...almost as if you were with us. Ideal for a short break with a Hornberg feeling!
Just click here.