Proud of our roots...
We consider running the Romantik Hotel as the third generation as a honour, a special responsibility and we are very grateful to have had this opportunity. We would like our guests to share this special story.
Once upon a time...
Werner and Helene von Siebenthal-Hauswirth built the Pension Hornberg and opened its doors in 1936/37. The inn offerd 24 beds. Both were born for the hospitality. Their cordial welcome to all guest made it a special place to return to and to meet and make friends. They held the reins until 1970 when they passed the property to their eldes son Peter and his wife Elisabeth. They not only continued in the same vein, they instilled an esprit of hospitality and a philosophy of hospitality for a bright future. A spirit that we too pursue still today.
Today...
1970 was the year when Elisabeth and Peter von Siebenthal-Wild became the 2nd generation owner-managers. They ran the hotel for 33 years with lifeblood, engagement, energy and love until they passed on the hotel to Brigitte and Christian. For some time, with passion and dedication, Elisabeth and Peter played an active role as co-hosts. In May 2016 Peter passed away. At some of our guided hikes you can still meet Elisabeth or find her in the restaurant.
Today the Pension of yesteryear is called "Romantik Hotel Hornberg".
The spirit of the previous generations lives on in Brigitte and Christian and with them all the employees. They all strive to welcome their guests and to make them feel comfortable, a home away from home.
---
Already discovered? The Hornberg 360° Panorama!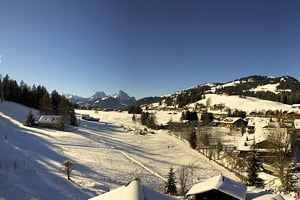 Breathtaking views...
...almost as if you were with us. Ideal for a short break with a Hornberg feeling!
Just click here.