Relaxation and wellness...
Relaxation and well-being are the first step into the Wellness-World of Romantik Hotel Hornberg.
The entire sauna area is reserved exclusively for use by you as a hotel guest and is not accessible by external guests.
To find your favorite Hornberg-Place just have a look on our ground plan. One click away.
Wellness in the Hornberg way
The wellness area is an oasis of 100 m² of Saunas and treatment areas. This includes a large organic sauna (50°C), a traditional Finnish Sauna (85° C), a steambath (45°C) and an outdoor Kneip cure fountain, where you can relax while enjoying wonderful views of nature.
Opening hours in the winter season: from 9 am to 9 pm.
Opening hours in the sommer season: from 3 pm to 9 pm.
(Important notice: the sauna area can be opened earlier than annonced, on demand.)
Just opposite the spa our relaxation room can be found. It is also at your disposal every day.
Opening hours in the winter season: from 9 am to 9 pm.
Opening hours in the sommer season: from 3 pm to 9 pm.
Of course the hotel's indoor pool (32°C), which offers mountain view and direct acces to the garden, is available as well...
Opening hours: from 7 am to 9 pm.
While a fantastic alternative offers our natural swimming pond in the garden. Being a 100% biological, it provides a unique refreshing cool-off adventure within nature.
All this is for hotel guest only!
Pure pleasure with a little massage
For your detente, our certified health masseurs Renate Anderegg, Claudia von Siebenthal, Daniel Zürcher and Samuel Büchel are always at your disposal with their pleasure and professionalism... the best relaxation ever...!
Find out here about the variety of our current massages!
(Our qualified masseurs can be booked in advance at the reception or by phone or e-mail. Both are very much in demand).
You can even give the pure pleasure with a little massage as a present... Have a look at our voucher shop!
Impressions
Enjoy the tour of the facilities below...
---
Already discovered? The Hornberg 360° Panorama!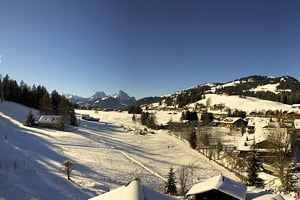 Breathtaking views...
...almost as if you were with us. Ideal for a short break with a Hornberg feeling!
Just click here.